Known for their ease of care, Cerith snails are among the hardiest of animals in the marine aquarium trade and are easily established in the tank. They can be identified from their pointy shells and are usually dark to black or tan in color. The size of the species commonly available in the aquarium trade varies from less than an inch (<2.5 cm) to close to two inches (<5 cm). They are known to be very long lived.


Like all molluscs these snails should be acclimatized slowly through drip acclimatization when moved to a new tank. Allow at least 2 hours for acclimatization. Although being hardy, Cerith snails are intolerant to copper and high nitrate levels (over 20). They prefer a specific gravity of 1.023 – 1.025, pH 8.1 – 8.4 and a temperature of 72-78° F / 22-25° C. They do best in aquariums with a lot of live rock and a deep sand bed.


Cerith snails will do a lot of good for your reef setup seeing as they scavenge and will eat any uneaten food, fish waste, and detritus as well as algae. Their preferred food source is however algae and if there are enough algae in the aquarium they will eat exclusively algae. If the aquarium has little algae the snails need to be fed supplement food, such as dried sea weed wrapped around a rock or otherwise fixated on the bottom of the tank. They are best fed at night as they are primarily active during the night even if they can be out and about in the daytime as well. They will burrow through the sand in search of food and a safe place to sleep; thereby making sure no oxygen depleted areas are created in the bottom substrate. They are among the only snails that will eat algae growing on the glass beneath the sand bed.


Cerithium caeruleum
Cerithium caeruleum, the Cerith sand snail, is a species of sea snail, a marine gastropod mollusk in the family Cerithiidae. This snail is an important cleanup crew as it feeds on Cyanobactera – the red slime algae menace. The Cerith Sand Snail (Cerithium caeruleum) mainly stays in the substrate during the day. It also frees the sand from cyanobacteria by chewing it through. At night it becomes active and rasps algae deposits off stones and glass. It also eats organic waste. Thus the Cerith Sand Snail has an important cleaning function in the aquarium.




The Cerith Sand Snail should be kept in aquaria from 10 litres which offer enough fine substrate. In order to achieve the desired cleaning effect circa 10 snails per 100 litres should be introduced. The snails are in general very peaceful and easy to care for animals.


Facts about Cerith sand snail:
Scientific name: Cerithium Caeruleum
Common name: Cerith Sand Snail
Max size: 3cm
Care level: easy
Compatibleness: peaceful
Feeding: Cyanobacteria, algae, organic waste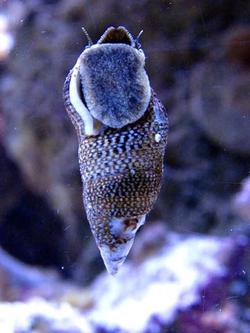 Why should you get a cerith snail?
They are exceptionally easy to care for.


They are quite resilient and long-lived, and are comparatively less sensitive to changing aquarium conditions (e.g. salinity fluctuation).


They are completely reef-safe, and have not been reported as a threat to any kind of beneficial organism.


Their smallish size (usually less than an inch) permits their use in nano aquaria and allows them to reach into tight crevasses between rocks (and notknock over small attached items like coral frags). Their burrowing behavior helps to stir and aerate aquarium substrates.


Best of all, they serve as overall effective aquarium bottom cleaners; not only will they consume particulate matter that is trapped within the sand bed, but they will also grab anything they can on the surface such as hair algae or ever cyanobacteria. Many aquarists who keep them do not realize how active they really are, since they forage mainly during the dark hours. When they can be seen, however, they are fairly attractive animals.